A bonfire night like no other! Come to Eyam to witness the infamous Burning of the Rat and fireworks display on Sat 4th November - Tickets now on sale!!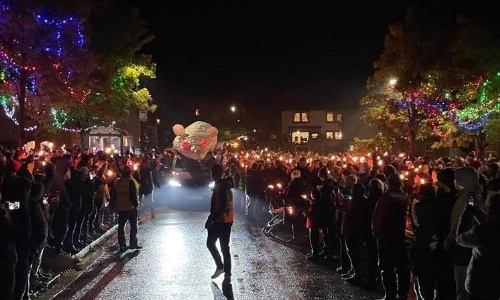 Come and celebrate the burning of the Infamous Rat and help raise invaluable funds for Eyam School!
The evening starts with entertainment in the village square from 5.30pm. The candlelit, music-led procession leaves the square at 6.15pm carrying the Eyam Rat, handcrafted by the school children out of willow, depicting the Eyam story of the plague of 1665. Walk through the village to the chants of 'Burn The Rat' to the playing fields, where the rat is finally placed and lit on the huge bonfire, and enjoy a fabulous firework display.
A wide selection of food is served to include locally sourced farmhouse sausage hotdogs, jacket potatoes with homemade chilli or baked beans & cheese, winter vegetable soup, roast chestnuts, parkin, homemade bonfire toffee, locally brewed beer and cider, home-brewed mulled wine and a selection of other hot and cold drinks.
Tickets are on sale from Thursday 5th October from selected Eyam Shops, Eyam Post Office, The Miners' Arms, Bloom and Calver Spar - CASH only for tickets!
Adults £8 (over 16s), Children £4 (2-15) and Under 2s Go Free.
.